The Poetry London Prize
The Poetry London Prize is a major, internationally renowned award for a single outstanding poem. Previous winners include Liz Berry, Niall Campbell, Romalyn Ante and Richard Scott.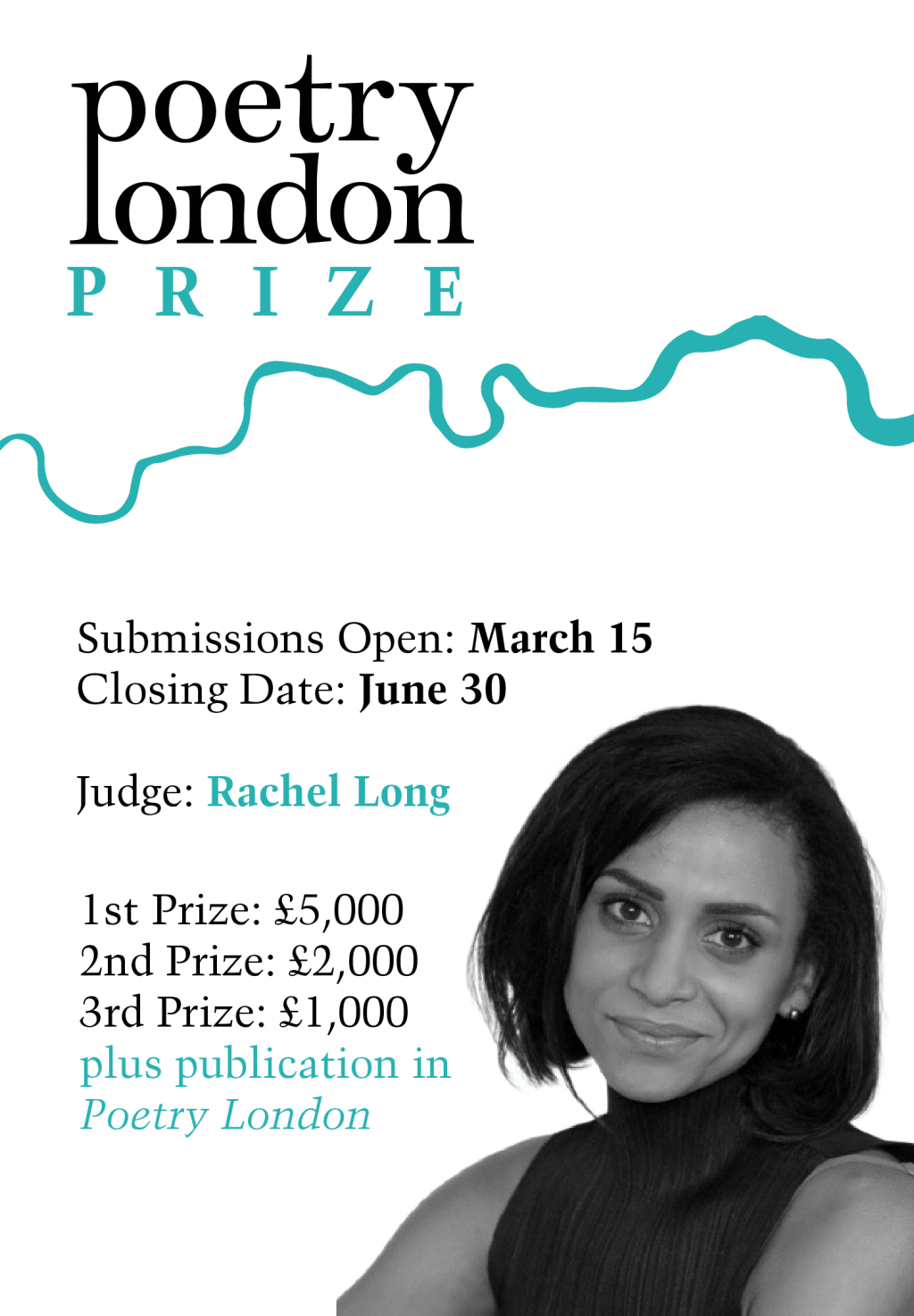 The 2023 Poetry London Prize is now open
Winners will be notified by the end of September 2023
First Prize £5,000
Second Prize £2,000
Third Prize £1,000.
Submissions Open: March 15. Closing Date: June 30
The judge of the 2023 Prize is Rachel Long.
Rachel Long's debut collection, My Darling from the Lions (Picador 2020 / Tin House 2021) was shortlisted for the Forward Prize for Best First Collection, The Costa Book Award, The Rathbones Folio Prize, and The Sunday Times Young Writer of the Year Award. The US edition of My Darling from the Lions was a New York Times Book Review, and named one of the 100 must-read books of 2021 by TIME.
Prize rules
The competition is open to poets anywhere in the world. Entries must be in English, your own unaided work, and not a translation of another poet. Entries must not have been previously published or self-published, in print or online, or have won a prize in another competition. The maximum length is 80 lines, not including titles or blank lines.
Entry is via Submittable only. If you have access requirements which mean you cannot access the online form, please email the office at admin@poetrylondon.co.uk. Postal entries will not be accepted unless required for personal access reasons, in agreement with Poetry London staff.
Entrants may not be current team members or trustees of Poetry London. Contributors and former staff and trustees are eligible.
You may enter as many poems as you wish, accompanied by the appropriate entry fee. For Poetry London subscribers the entry fee is £5 per poem; for non-subscribers it is £10. If you're entering more than 3 poems, it works out cheaper to get a subscription and use the lower fee, so why not enter your poems and get a year of fantastic poetry delivered to your door? To get the subscriber price, you do not need to be an existing subscriber. You can subscribe using this form, select the 'subscriber' poem fees, and check out at the same time as you pay for your entry. Entries which are not accompanied by the correct entry fee will be disqualified.
There are a limited number of free entries for writers from disadvantaged socio-economic backgrounds. To qualify, you should be in receipt in one or more of the the following: Jobseekers Allowance, Income Support, Working Tax Credit, Universal Credit, Council Tax Support, Pension Credit, Housing Benefit, Carer's Allowance, Personal Independence Payments, income-related ESA, Attendance Allowance, Disability Living Allowance, or Statutory Maternity Pay. To enter, please email up to two poems to admin@poetrylondon.co.uk along with a scan of a recent letter proving your eligibility. Entries will be anonymised and entered into the Submittable system. We also recognise that people's lives and livelihoods have been affected in many ways not covered by the above mentioned schemes. If you are having difficulty affording entry, or you are eligible for non-UK equivalents to the above benefits and grants, we encourage you to get in touch with us via admin@poetrylondon.co.uk
All files must be either a .doc, .docx or .pdf. All entries will be judged anonymously and the poet's name must not appear on any page of the portfolio. Entries must be written in English, can be on any subject and can be written in any style or form. Each poem should be uploaded in a separate document. Entries are welcome from poets based anywhere in the world and there are no restrictions on themes, subjects or styles.
The closing date is 23:59 on June 30, 2023. Winners will be notified by the end of September 2023. The first, second and third prize-winners will be published in the Autumn 2023 issue of Poetry London and on the magazine's website.
The prizes will be awarded at our Autumn launch reading in London.
Copyright remains with the authors, but we reserve the right to publish the winning poems in any format at any time.
Prizes may be withheld or altered if we receive no outstanding poems, or insufficient entries.
Please do not leave your entry to the last minute as we may be unable to provide technical support near the deadline, and we will not accept late entries.
Entries will be sifted by the editors of Poetry London, and the top 500 will be read by Rachel Long. Should the named judge be unable to proceed, we aim to find an alternative judge of equivalent standing as a poet. The judge's decision is final, and we are unfortunately unable to provide feedback.
Your entry in the competition indicates acceptance of these rules.
Click here for Participate | More Details
For more Competitions
Recent Posts